Want to participate?
Membership is open to women who have completed at least a master's degree, College of Higher Education (HBO-) diploma or bachelor's degree obtained at a Netherlands or a foreign government accredited institution of higher education (university or college). Women who do not meet these requirements, but who are (were) members of a national federation or association of GWI and/or Independent Member of GWI can join.
Also women who meet these 'academic' requirements and are temporarily working and/or training are in the Netherlands are invited to become a member.
Memership fee
The membership fee for 2019 is € 37,50 (minimal) per person. You can pay the membership fee into our bank account at ING Bank. Our account number is NL 48 INGB 0007 2598 00 in the name : Graduate Women International Netherlands 'GWI-NL'.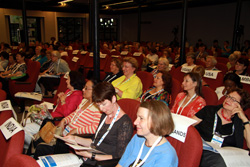 Web-registration
Please also register yourself via our website-registration link or contact us at info@gwi-nl.org if you are having any difficulties with you registration.

Application form for membership of GWI-NL


Download application form